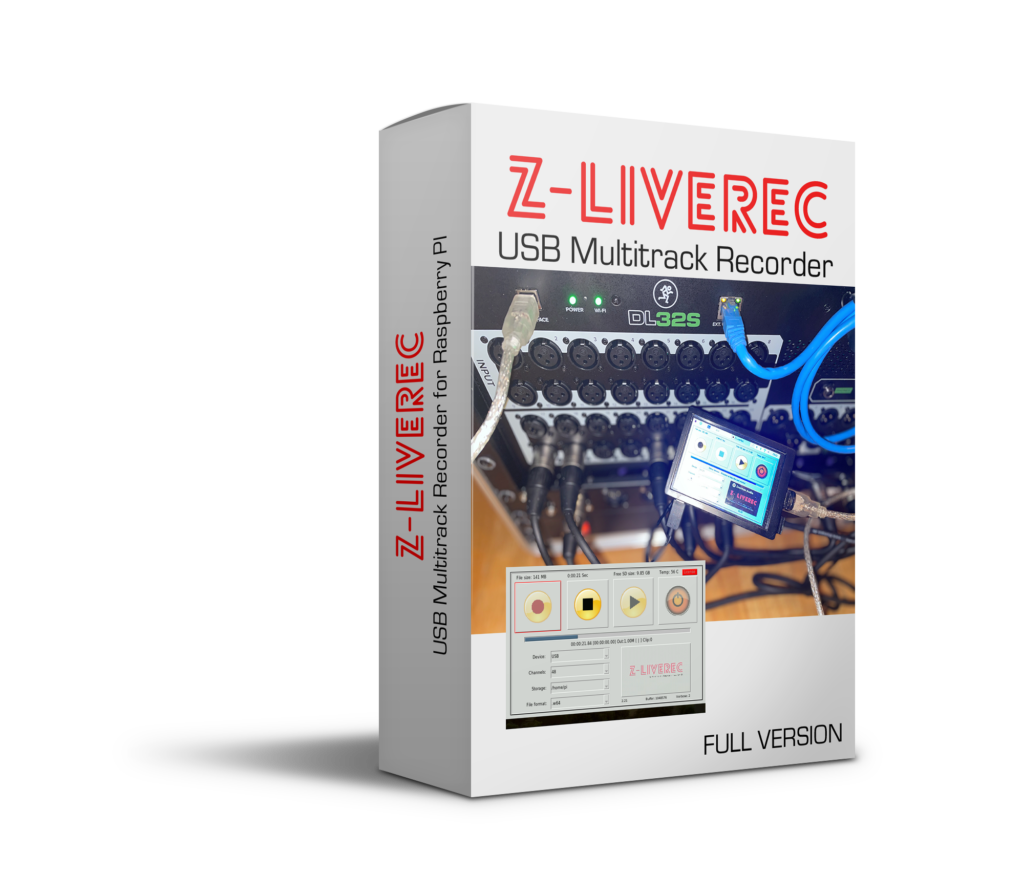 Z-LiveRec is a multitrack USB recorder/player for Raspberry PI 4 & Core Class Audio/ALSA Compliant devices and digital mixing consoles like Mackie DL-16S/DL-32S series and Behringer XR18 &X32 series. It handles 2 to 48 channels, 48Khz, 24 bits recordings over USB 2 and store them into a single multitrack wave file.
These file can later be used directly in Apple Logic Pro X, Steinberg Cubase or Reaper for multitrack post production.
NEWS 2022-04-19 – Z-LiveRec 2.25 is launched! See all the details!
Z-LiveRec the USB multitrack recorder
The Z-LiveRec is an app created especially for the cost effective Raspberry PI family computers with or without a touched based GUI and support for mixing consoles like Mackie DL16S/32S/DL-32R and Behringer X18/X32.
The Z-LiveRec can both record and replay up to 48 channels over USB from/to the Mackie/Behringer mixers. Just perfect for live recordings, virtual soundchecks and multitrack playbacks. It can generate wav, W64 or CAF audio file types, which later can the be imported for post production into popular DAWs like Logic X, Reaper, Steinberg Cubase, Reaper and ProTools.
The implementation records up to 48 channels, 48KHz, 24 bits depth over USB on a Raspberry PI 4/PI 400 or PI 3. For a even more portable solution, a Raspberry skin/box with a built in 3.5" display with touch can be used to slim down the recording equipment to almost nothing! There are complete screen and case/box solutions on the market for Raspberry 4/3. Raspberry have 4 USB ports where two of them supports USB 3 compliant devices. These can be used as USB connections to the mixer and also for storing files to USB 3.1 based memory sticks or SSD drives. Using exFAT/NTFS file systems – the recording can continue almost forever – only limited by the disk size.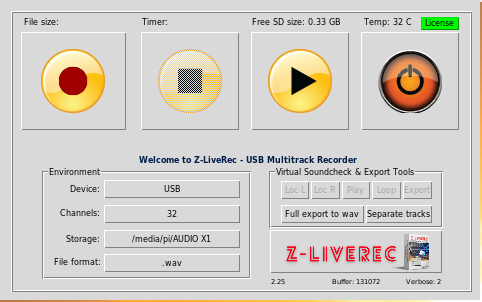 The Z-LiveRec is a compiled exe for the Raspberry family boards, which can run on the latest version of Raspbian with only one extra added sound library – LibSoX.
You can download a free trial version (200MB limit of recording) to test the concept or purchase the full version + instructions in the Z-LiveRec Store.
The Z-LiveRec have been tested on a Raspberry Pi 4 with 2GB RAM, Raspberry PI 400, 4GB and Raspberry PI 2 W Zero. See the complete tested list of devices.
Checkout the Z-LiveRec Manual!
Z-LiveRec is based on Peter Dikant 's excellent work using bash scripts on a Raspberry PI 3 or 4 as a multitrack recorder for Behringer XR18.
A video demo of version Z-LiveRec V2.24