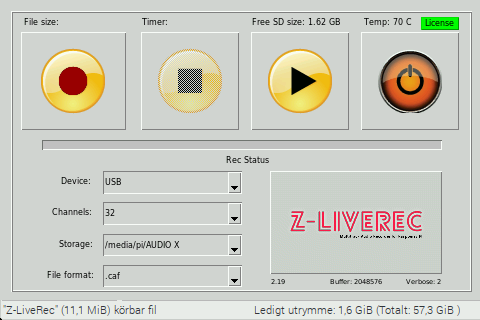 Z-LiveRec 2.19 (Both trial and full version) is launched and includes a couple of new features and bug fixes.
Some new features in 2.19:
Auto Update function for registrated users added from 2.19 – will allow Z-LiveRec to update from now the latest version. (Requires network access on your RPI – to be able to auto update – settings found under the license tab button)
Running Z-LiveRec in bordeless application window – perfect for smaller displays (Set in a variable in z-liverec.cfg – deco=1)
Configuration is saved in Z-LiveRec.cfg directly when anything is changed in the application. (Previous – this was done at recording)
Dynamic update of sound devices and storage disks…if anything has changed during session – like adding a new drive, USB Stick…or adding a new sound device over USB using plug and play.
Z-LiveRec Manual updated to reflect the changes above.
Minor fixes when running big recordings – going over 4GB using ExFat and W64 or CAF type of formats.
(Please note: Wav files does not support going over 4GB or using USB Sticks with FAT32 format)
Have a look on the product page for more information!